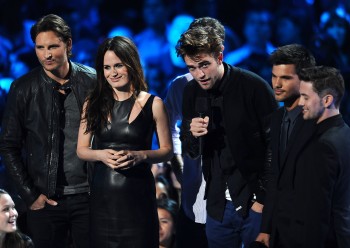 Last night, Robert Pattinson, Peter Facinelli, Elizabeth Resaser, Wyck Godfrey, Taylor Lautner and Jackson Rathbone were all in attendance at the VMA's and presented a first-look at the newest Breaking Dawn trailer and OH MY GOD IT LOOKS AMAZING!
The full-version will be available
tonight
from 8PM ET / 1AM GMT (Ireland/UK) on Yahoo!.
VIDEO: The Cast presenting a new Breaking Dawn Part 2 trailer at the VMA's!