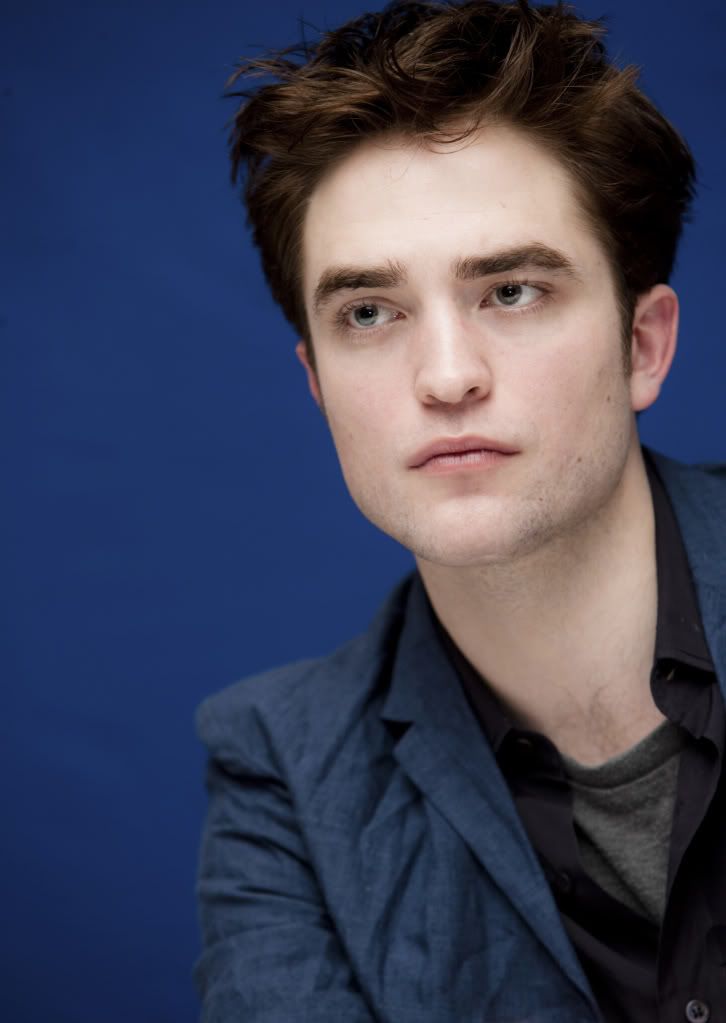 Becoming a Hollywood heartthrob was never on Robert Pattinson's to-do list. But he has become one of the hottest teen idols in the world. Indeed, the poster boy continues to be idolized for his role as vampire Edward Cullen, opposite Kristen Stewart's Bella Swan, in the wildly popular Twilight film series. And the fantasy blockbuster maintains its momentum, with the release of The Twilight Saga: Breaking Dawn – Part I on Nov. 18, followed by Part II in November of 2012

Certainly, the Twi-hard craze shows no signs of letting up. Based on the bestselling Stephenie Meyer books, the first three movie versions – Twilight, New Moon and Eclipse – scooped up more than $1.8 billion US, while the controversial Breaking Dawn pictures could add another billion dollars to the coffers. Reminding the 24-year-old that he must endure at least two more years of adoration from devoted zealots makes him grimace a little.


"None of us ever thought Twilight was going to be so massive," admits Pattinson during an interview in L.A. while promoting Eclipse. As all-encompassing as the phenomenon turned out to be, the actor has been wise enough to act in different genres along the way.

Last year, he starred in the romantic drama, Remember Me, with Emilie de Ravin, Lena Olin, Chris Cooper and Pierce Brosnan.

Out later in the year is his controversial role as a 19th-century Paris reprobate in the R-rated adaptation of the Guy de Maupassant story, Bel Ami. "It was really fun to do, because he is a completely amoral character."

And then there is his measured performance in the movie version of Vancouver- born Sara Guen's novel, Water for Elephants.

Opening April 22, the Francis Lawrence-directed melodrama follows the exploits of Jacob, played by Pattinson, a veterinary university student who abandons his Depression-era middle-class life after his parents are killed in a car accident. Jacob ends up joining a circus to help care for the animals, but gets embroiled in the dysfunction of his new surrogate family. Reese Witherspoon plays Marlena, the equestrian star of the Benzini Brothers' Most Spectacular Show on Earth, and the object of Jacob's affection. Christoph Waltz plays Marlena's charming husband, who is actually a sadistic animal trainer and ringmaster.

"I like that Jacob jumps on a train out of desperation to find something else," says Pattinson of his character. "He ends up falling in love with the star attraction, who's also the wife of the ringmaster, and all sorts of chaos ensues."

Besides the romantic turmoil, the actor appreciated the depiction of the 1930s in the U.S. Somehow, it felt familiar to the London-born lad.

"I always had an affinity for that era," he says. "I've always wanted to do a movie around that time, and I'm happy I did. I think that it was just very solid."

Even the kissing scenes worked out between the five-foot-two Witherspoon and the six-foot-one, self-confessed sloucher, Pattinson. "I have quite bad posture, " he says. Still, the camera has always loved him. Initially, as a teenager, he booked lots of modelling gigs around London, thanks to his brooding good looks and his mother Claire, who worked at a talent agency.

During that period, he also performed in neighbourhood theatre productions and dabbled in pop music, singing and playing guitar at clubs near his home.

Eventually, he found an agent, and surprised even himself, when he won the coveted cameo in Harry Potter and the Goblet Fire, playing the doomed Cedric Diggory. After beating out 5,000 other Edward hopefuls, he signed to play the vampire in turmoil, connecting with Stewart's Bella so convincingly that rumours of an off-screen romance continue to this day.

Before the gossip and Twilight's release, he remembers simply hoping that an American independent movie on his resume might open some doors in North America. He didn't see it coming.

Chuckling at his naivete back then, he says he's slowly learned to cope with the never-ending media attention and the constant exposure from online fan sites. "It's incredible that they get information so quickly," Pattinson says of the sites. "Sometimes I check them, just to see what my schedule is.

"I must admit, though, it's strange being in Twilight, because so much of the fan base is completely about being part of a community. People turn up at the sets of other movies I've done, and take pictures, and you know it's going to be up (on the Internet) within five seconds." In another few years, Pattinson says he figures fans will move on to the next big thing. "I've always felt that if something explodes really quickly that it takes the same amount of time for people to think about something else."

When they do, the actor has a few post-Twilight plans he's keeping to himself. Whether he can realize them is his next chapter.

Will he be overshadowed by Edward? "I don't know if I will be. As usual, I have no idea – but I hope not."
Source
/
via
/
ToR