All in all, Twilight did very well for itself!
- Kristen won the award for

"Favourite Movie Actress"
- Twilight: Eclipse won

"Favourite Movie" and "Favourite Movie drama".
-
Robert Pattinson, Kristen Stewart, Taylor Lautner won the "
Favorite On Screen Team" Award.
Johnny Depp beat Robert Pattinson and Taylor Lautner to win the title of "Favourite Movie Actor", and Rob and Kristen were beaten by Zac Efron in the "Favorite Movie Star Under 25" category.
It looked like the cast had a good night though - joking with Queen Latifah, and smiling and laughing throughout the whole night!

Below are some videos and pictures of the cast.



Video: Rob, Kristen and Taylor accepting the award for "Favourite Movie".

Video: Queen Latifa talking to 'Bella', 'Edward' and 'Jacob'. (She went crazy! lol)



Video of Kristen accepting her "Favourite Movie Actress" Award

Picture of Kristen accepting her award for "Favourite Actress".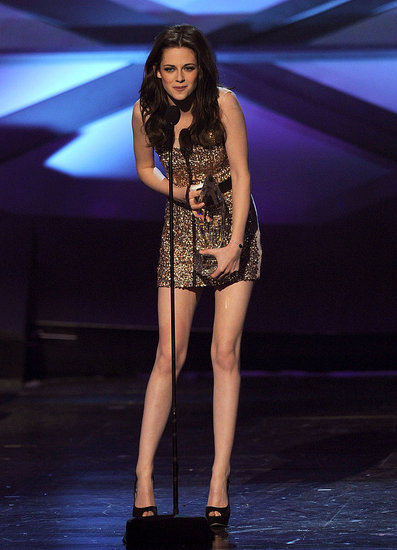 Pic of Taylor Lautner backstage!
Picture of Rob backstage

via celebuzz


Here are some pictures from inside the Awards Ceremony, courtesy of Twilightish.
There were also two featurettes about Rob and Kristen that were shown on the blue carpet.
(Thanks to @FePattz for uploading them)

Video: Kristen Stewart featurette
Video: Robert Pattinson featurette


We'll be updating the blog tomorrow with even more news! (For the full list of winners, click here.)

What did you think of the night? Are you happy with what Twilight won?